The Listening Chaos – February 2017
Man, another month is in the books already. That means it's time for another roundup of last month's best new releases. it was another good one, so let's get to it…
Albums of the Month
Crystal Fairy – Crystal Fairy
From my review of the album:
On paper, the combination of Buzz Osborne, Dale Crover, Omar Rodriguez-Lopez, and powerhouse Le Butcherettes/Bosnian Rainbows vocalist Teri Gender Bender seems like a can't miss, but the recent spate of seemingly can't miss 'supergroups' (Killer Be Killed, Giraffe Tongue Orchestra, Gone is Gone, Serpentine Dominion) have proven to be anything but. Fortunately, in the case of Crystal Fairy, I needn't have worried – their self-titled debut record is a phenomenal collection of psychedelic sludge pop that sees Buzz and Dale in particular sounding more inspired than they have on anything since The Bride Screamed Murder
Kairon; IRSE! – Ruination
From my review of the album:
[I]t brilliantly takes the elements that made classic progressive rock so engaging and updates them in such a way that they sound fresh again. Ruination manages to be retro-influenced without being derivative, which isn't an easy thing to do […] In the end, Kairon; IRSE! might not be the most metal album you're likely to hear this year—in fact, I'm hesitant to call it metal at all—but anyone who likes the direction Opeth has taken on their last few records and wants to dive a little deeper into prog-rock, Ruination would be an excellent place to start. Anyone into unpredictable, challenging music will find a lot to like here as well.

Manetheren – The End
This is one of those albums that wasn't really on my radar, but it took all of about 30 seconds for it to totally win me over. Manetheren play a highly melodic style of atmospheric/post-black metal that scratches the same itch for me as bands like Woods of Desolation, Amesoeurs, and Alcest – it's aggressive, but it's also surprisingly beautiful. Carefully composed and flawlessly executed, the album tells the story of one man's journey through the apocalypse to eventually become a sort of god of the wastes, but you don't need to get into the story to be moved by the music. This one's going to be on heavy rotation for a while.
Power Trip – Nightmare Logic
From my review of the album, which is definitely a strong candidate for Album of the Year:
There are a couple of things that really make this album work. The first is the tightness of the songs. Given that the album is all of eight tracks and a relatively brief 33-minutes, it's kind of remarkable how many killer riffs and nimble leads guitarists Blake Ibanez and Nick Stewart manage to pack into these songs without making them feel overstuffed. There are honestly so many awesome riffs that it's difficult picking out one or two highlights, but the breakneck intro/verse of "Firing Squad" is a definite standout, and it's doubly effective in light of how it contrasts with the heavy mosh riff of the bridge. The long outro section of "If Not Us Then Who" is a total neck-wrecker, mixing speedy, staccato palm-muted chugs with a half-time turnaround that might be the coolest part of the whole record.

Honorable Mention
Iron Reagan – Crossover Ministry
From my review:
On Crossover Ministry, though, the party-to-political ratio seems to have been reversed. Yeah, there are some party songs on the new album—most notably "Fuck the Neighbors," which reminds me a bit of Sloppy Seconds in terms of it's attitude—but on the whole, Crossover Ministry is a much more lyrically serious album than what they've released in the past. Tracks like "A Dying World," "More War," and especially "Dead With My Friends" have a different kind of anger to them that makes the album feel a lot more urgent than either Worse Than Dead or The Tyranny of Will.

Palace of Worms/Ecferus – Split
Ecferus is a highly prolific one-man black metal project out of Indiana (I think Alp hails from Fort Wayne, but don't quote me on that) that's gotten quite a bit of buzz lately based on the strength of last year's excellent Pangaea and a strong split with Jute Gyte. On this split he's paired with Palace of Worms, another one-man project from the guy behind dulcimer-driven black metal outfit Botanist. It's a good pairing, with Palace of Worms a little more on the punkish side and Ecferus opting for something a bit rawer than his usual output, and both sides are really solid. Highly recommended for fans of USBM.

Resonance Cascade/Järnbörd – Hyperakusi
From my review:
Resonance Cascade's brand of grind is steeped in the Swedish death metal tradition. I don't know if they actually use HM-2 pedals, but that's definitely the dominant aesthetic here – their half of the split kind of sounds like Wolverine Blues played at five times the speed, which is more than fine by me. […] Järnbörd spike their grind with a heavy dose of crust, and as a result, their half of the split is a much rawer, more frenetic affair. I actually wasn't familiar with them at all prior to this, so I was pleasantly surprised by their tracks. "Kvarnstenen," which somehow manages to both blast and swing, is probably my favorite of their tracks, but the dynamic "Du och ditt arbete" is a very close second.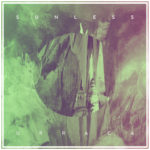 Sunless – Urraca
From my review:
Sunless has a directness to what they do that is uncommon among bands of this style. Consider a band like Pyrrhon, where the dissonance comes as a result of their chaotic arrangements, or the wonky time signatures and inhuman-sounding drum patterns of someone like Ulcerate. Sunless sound deceptively straightforward in comparison. There's not a lot of contrapuntal push-and-pull between the guitar and bass, resulting in riffs that are almost catchy by tech-death standards, particularly the deep groove they lock into during "Gathering at the Skull's Eye" and the last few minutes of closing track "Disintegration of Man."
Sunlight's Bane – The Blackest Volume
From my review:
This record is flat-out fucking caustic. If you invite it into your home, it will hold you down and strip the enamel from your teeth […] Sunlight's Bane is anything but one-dimensional. Their sound is an amalgamation of crust, d-beat, black metal, post-metal, hardcore, and grindcore that makes for a much more dynamic listening experience than one might ordinarily expect from a band that's broadly classified as grind. No two songs on The Blackest Volume sound quite the same, but the songwriting here is deft enough the disparate elements and influences come together to form a remarkably cohesive, relentlessly pissed-the-fuck-off whole.