Full Review
Huh, it's almost been a whole five minutes since the last time we covered a new Folkvangr Records release. How time flies. Mark runs a pretty tight ship at Folkvangr, and keeps an ear to the ground for up-and-coming black/folk metal bands. Forefather are the latest to join his collective, and just in time for their 12th release, Tales From a Cloud-Born Land. Forefather have been labeled by some as pagan metal, though in reality, their sound is much more complex and multifaceted than such a title would imply.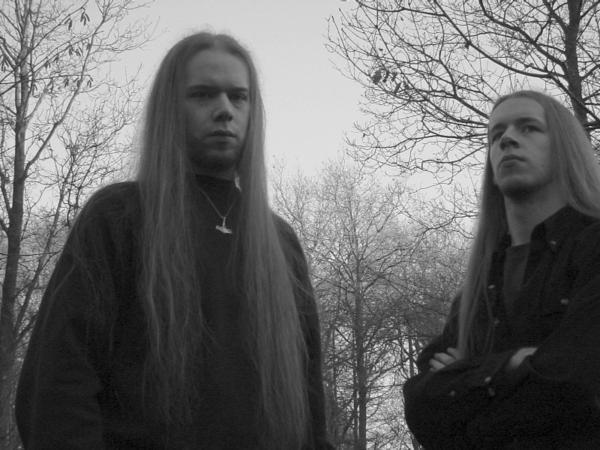 Start off with a heaping helping of Iron Maiden riffs. Next, take some Amon Amarth style Viking aggression, blackened rasps not unlike those found on Serpents Unleashed-era Skeletonwitch, and add a pinch of quasi-power metal bombast and you've got Forefather. It's not every day (though it ought to be) that I get to mention Maiden in a review for an album as blackened as this one, but the galloping, NWOBHM-style riffs add a playfulness to the album that really helps it stand out from the pack of blackened pagan metal on the market. For example, the opening of "One Blood and One Bone" sounds like an unused cut from Killers, and if it doesn't get your head moving you must already be a corpse.
Though of course, there's more to this album than simple NWOBHM worship. When Forefather go full-on blackened death metal, it's beautiful. "In Victory We Feast" is a triumphant sounding slab of blackened Viking metal not dissimilar to what you'd expect to find on a Sons of Crom or Crimfall album. Though unfortunately, not everything is peaches and cream on Tales of a Cloud-Born Land. The biggest issue on the album is the clean singing. Sure, Wulfstan has a great voice for harsh vocals, but I can't get behind the clean singing. The way he tries to add a beefiness to his voice that simply isn't there puts me off entirely [ed. note: says the kid who loves A7X - now you know why we keep him in the dungeon]. Though at the back of my mind, I suspect this might just be a "me" issue, but this after all, is a "me" review and I gotta call it as I see, or in this case, hear it.
But on the bright side, the clean vocals aren't nearly as common as the blackened rasps. They're at their most prominent on "Out of Time," but the instrumental side of the song is strong enough to save it. The emotional guitar playing found on this album was certainly a nice surprise. When one thinks "gruff pagan metal" emotional catharsis is probably not the first thing to spring to mind, but here we are. Finishing the album off is "Daughter of Twilight", an inspirational, uplifting and (to use an already overused term) majestic instrumental that caps things off nicely. It's got the riffs, the mood, the atmosphere and even though there are no vocals, it's got the hooks as well.
Though I may not be as in love with this album as I am with some of Folkvangr's other releases, Tales is still a clear winner. And any band that I can easily recommend to fans of both Iron Maiden and Amon Amarth must be doing something right.
Tales From a Cloud-Born Land will be available on October 27 via Folkvangr Records.
There are certain record labels that end up becoming synonymous with certain styles of music. Sometimes those associations are fair, like Unique Leader and slick modern tech death, or Ripple and stoner rock. Sometimes they're a bit of an [...]
It's been a good long while since I've heard an album with as many moments that made me stop in my tracks and say "wait…how the fuck did he just pull that off?" as there are on Forever Resonating in Blood, the forthcoming sophomore full-length from New [...]
When you think of H.P. Lovecraft's intricate web of interconnected horror fiction canons and stories of cosmic horrors, what sounds come to mind? The nightmarish noise of Portal? The incomprehensible angular riffs of Dodecahedron? Perhaps even the [...]